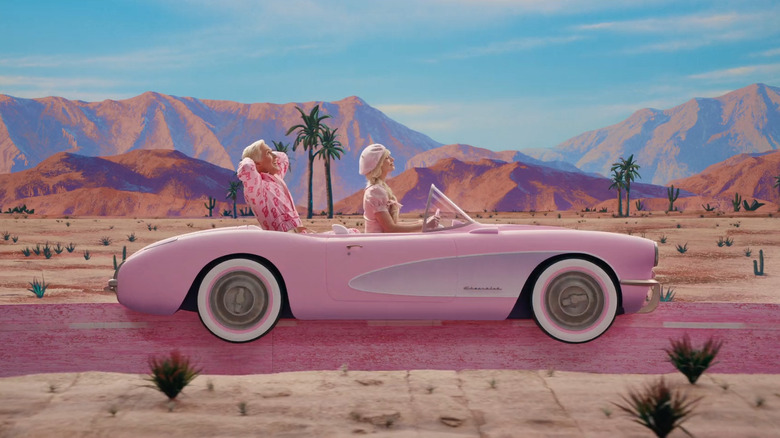 What happens when a doll begins to question its reality? That question seems to be the existential center of Greta Gerwig's new film "Barbie," out in theaters on July 21, 2023, and it's the highlight of the new trailer.
Gerwig, who wrote the script for "Barbie" with Noah Baumbach, has clearly peered deep into the abyss of Barbie's world, trying to suss out the strange, pink alternate reality where the famous Mattel doll seems to live. The latest trailer begins in Barbieland, a brightly colored universe that looks exactly like several generations of Barbie toys stacked neatly together. Barbie (Margot Robbie) has choreographed parties every night, and the ability to jump from her roof and float gently down to the ground below. Her feet are biologically shaped to fit into six-inch spike-heel shoes. 
But something is rotten in the state of Barbieland. It seems that Barbie, however perfect her universe is, has begun to contemplate death. In the world of dolls, this is unheard of. Merely thinking about death apparently alters the very fabric of the universe, and Barbie loses her floating powers, alienates her friends (also all Barbie), and develops flat feet. This is pretty heady, philosophical material for a film based on a popular fashion doll, a top-seller since its introduction in 1959. 
As long as Barbie's idealism seems to be crumbling, a vandalized Barbie (Kate McKinnon) appears in her life. Her makeup implies a child has drawn new "makeup" on her Barbie face, and her hairdo matches that of a Barbie doll whose owner became ambitious with scissors. The choice is clear: put on a high-heeled shoe and return to Barbieland to live in an illusion … or slip on a pair of Birkenstocks and enter [musical sting] the Real World. 
Watch The Barbie Trailer
One might wonder if there's an element of subtext in a scene where a lesbian actress is imploring Barbie to put on a pair of Birkenstocks and join the real world.
It seems the story of "Barbie" will be the clash between the little-girl idealism of Barbie with actual reality. Barbie and Ken (Ryan Gosling), still sporting their brightly-colored doll costumes, find themselves in Venice, California running afoul of real-world police officers and talking to women who played with Barbie dolls as children. It's worth noting that Mattel's corporate headquarters are located in El Segundo, California, close to the Los Angeles International Airport, and not terribly far from Venice. The new "Barbie" will feature scenes of the title character touring the company that owns her. It seems like a chance for Barbie to break free and become … gulp … adult. 
Will Farrell appears in "Barbie," and seems to be filling a role similar to the one he played in "The LEGO Movie" in 2014. He seems to be the one who is looking at a child's toy — a product meant to encourage imagination and play — and reducing it to its technical, joyless, commercial iteration. It's appreciated that Gerwing thought to include some push-and-pull between the childhood joy of certain toys and the gross corporate branding that begat them. 
The film looks amazing. The production design is by Sarah Greenwood ("Beauty and the Beast," "Anna Karenina"), and "Barbie" was photographed by Rodrigo Prieto ("The Irishman," "Silence," "Brokeback Mountain"). Other Barbies will be played by Issa Rae, Alexandra Shipp, Emma Mackey, Ritu Arya, Dua Lipa, and several others. Additional Kens will be played by Simu Liu, Scott Evans, Kingsley Ben-Adir, Ncuti Gatwa, and John Cena. Hellen Mirren will narrate.
Read this next: Overlooked '80s Cartoon-Toy Franchises Ripe For Revival
The post Barbie Trailer: Greta Gerwig's New Movie Looks Incredible appeared first on /Film.