Welcome to Good Burger, home of the Good Burger, can I take your order? 
Believe it or not, "Good Burger" is about to be back open for business, over 25 years after the original Nickelodeon movie hit theaters. In a surprise appearance on "The Tonight Show Starring Jimmy Fallon," the film's dynamic duo, Kenan Thompson and Kel Mitchell, appeared at the top of the show to officially announce that "Good Burger 2" had officially been given the greenlight over at the Paramount+ streaming service. 
Variety reports "Good Burger 2" will be written and executive produced by Kevin Kopelow and Heath Seifert, who not only co-wrote the original film but also worked on "All That." The duo will also get writing help from James III, a younger talent who worked as a writer on the reboot of "All That." Directing duties will fall to Phil Traill, who is best known for directing episodes of TV shows like "Good Girls," "Fresh Off the Boat," "Modern Family," "Brooklyn Nine-Nine," "Black-ish," "Raising Hope," "Cougar Town" and more. But Traill also has feature film experience, having been behind the camera for the panned comedy "All About Steve" with Sandra Bullock and Bradley Cooper. That's not super encouraging, but I guess we'll take what we can get.
Welcome To Good Burger 2!
Kenan and Kel appeared in the cold open of "The Tonight Show," with the latter appearing in character as the loveably dimwitted Good Burger employee known only as Ed. Of course, Jimmy Fallon couldn't help but get in on the action as the blonde surfer equivalent , and the two had an amusing moment where Ed thinks Jimmy Fallon, who is given the name Jed in real time, is his father. It's the kind of silliness we love to see from Kenan and Kel, even if we don't need Jimmy Fallon there.
Later in the show, Kenan and Kel took their seats next to Fallon's desk to announce that "Good Burger 2" was in the works. 
Along with their appearance on "The Tonight Show, both Kenan and Kel released official statements (via Variety) about the exciting announcement. For his part, "Saturday Night Live" star Kenan Thompson said:
"I can't believe it's been a little over 25 years since great customer service was born at Good Burger! Being a part of something so many generations of people have come to love has made me so proud and now to be back where it all began working on the sequel is surreal! Love performing with my brother Kel and can't wait to show the fans what these characters have been up to since we last saw them."
Meanwhile, Kel Mitchell talked about reprising his role as Ed, one of the most beloved '90s characters from Nickelodeon's golden years:
"Ed is one of those timeless characters that has brought so much joy and laughter to fans, and it's such a beautiful blessing to still be doing it after all these years. It's super awesome to come back and continue the stories of Dex, Ed and Good Burger for both the people who grew up watching and their kids."
What Was The Original Good Burger About Again?
"Good Burger" actually began as a sketch in 1994 as part of the first season of the Nickelodeon sketch comedy series "All That," where both Kenan Thompson and Kel Mitchell were regular cast members. The Good Burger sketches focused primarily on the charming but idiotic Ed, who was constantly misinterpreting fast food orders and directions from his manager and getting himself into silly situations. The sketches became some of the most popular bits on "All That," which sparked the 1997 big screen jump, marking Nickelodeon's second ever feature film after "Harriet the Spy."
In the "Good Burger" movie, Kenan Thompson played a new main character named Dexter Reed who reluctantly took a job a Good Burger after he finds himself needing thousands of dollars to repair his teacher's car after inadvertently crashing into him right at the start of summer vacation. Though Dex initially tried to work at the more upscale Mondo Burger that recently opened across the street from Good Burger, he was fired for being both incompetent and a smart ass. After meeting the strange Ed at Good Burger, they strike up a an oddball friendship, despite the fact that Dex learns that Ed is the one who caused the car accident with his teacher. Finally, when Good Burger is threatened with shutting down by the successful Mondo Burger, it's up to Dex and Ed to reveal the illegal food additive use Mondo Burger is practicing in order to make their burgers unnaturally big. 
Along with Kenan and Kel, there was also an ensemble cast of fast food employees that included fellow "All That" cast member Josh Server as the quirky Fizz, Shar Jackson as Dexter's love interest Monique, "Varsity Blues" star Ron Lester as the frequently grunting cook Spatch, Ginny Schreiber as a vegetarian named DeeDee, and Dan Schneider as Good Burger manager Mr. Bailey.
So What Will Good Burger 2 Be About?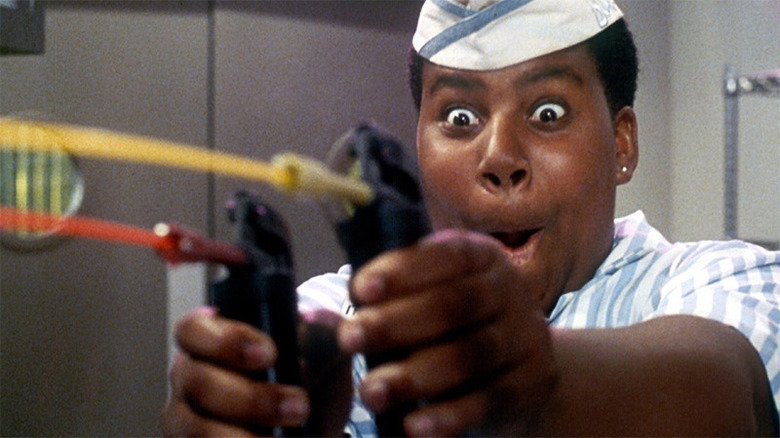 Where will "Good Burger 2" take Ed and Dexter? Even though there was a sequel in the form of a book, here's the completely different logline that was revealed by Variety:
Dexter Reed (Thompson) is down on his luck after another one of his inventions fails. Ed (Mitchell) welcomes Dex back to Good Burger with open arms and gives him his old job back. With a new crew working at Good Burger, Dex devises a plan to get back on his feet but unfortunately puts the fate of Good Burger at risk once again.
Wait a second, Dexter is an inventor now? Are they confusing "Good Burger" with "Dexter's Laboratory" somehow? That seems like a strange decision for Thompson's character, since he showed absolutely no aptitude for inventing, well, anything. Though I suppose it stands to reason that high school kids go on to do a variety of unexpected things in their adult years, this seems like a perplexing development for the character. Meanwhile, it makes perfect sense that Ed would still be working at Good Burger after 25 years, so no arguments there. 
As for the rest of the original "Good Burger" cast, the logline does mention a new crew working at Good Burger. That also makes sense, considering both Abe Vigoda and Ron Lester unfortunately passed away in 2016. As for Shar Jackson and Josh Server, there's always a chance they could make a cameo, but it would be strange if there were any other Good Burger employees still working there after all this time. Fast food jobs are notorious for having a lot of turnover, and it's rare that employees make a full fledged career out of it, unless they go on to be management. When it comes to Dan Schneider, I wouldn't expect him to be back, but that's for entirely different reasons. 
For what it's worth, Thompson is hoping to have cameos from some famous faces, including extending an offer for Jimmy Fallon to make an appearance
Is This A Good Idea?
As a child of the '90s who has a soft spot in their heart for both "All That" and "Good Burger," this is exciting news. Yes, I've rewatched "Good Burger" several times since I was a kid, probably too many times. Though it's a very silly comedy geared towards kids, there's no denying that Kenan Thompson and Kel Mitchell have impeccable comedic chemistry, and it's genuinely funny. Honestly, it's a lot like a stoner comedy without any weed. Kenan & Kel are every bit as entertaining as Bill & Ted (who also aren't actually stoners) or even Harold & Kumar. 
However, I can't help but wonder if anyone else will actually care. Nostalgia only goes so far, and will adults actually care about this 25 years after the original movie? I suppose the "Good Burger" sketch reunion that also unfolded on "The Tonight Show" around seven years ago (seen above) and racked up over 27 million views makes a good case for "Good Burger 2," not to mention a brief appearance at the Emmys recently. On a related note, there was quite a big reaction to a recent "Saturday Night Live" sketch that parodied a sequel to Kenan and Kel's self-titled Nickelodeon series "Kenan & Kel," with the addition of host Keke Palmer. So maybe the audience is there for a "Good Burger" sequel. 
"Good Burger 2 " is slated to begin production in May, after the current season of "Saturday Night Live" is over, and it's expected to arrived on Paramount+ sometime before the end of 2023. Yay!
Read this next: 14 Awesome Comedies That Never Got Sequels
The post Good Burger 2 is Cooking at Paramount+ with Kenan Thompson and Kel Mitchell Returning appeared first on /Film.