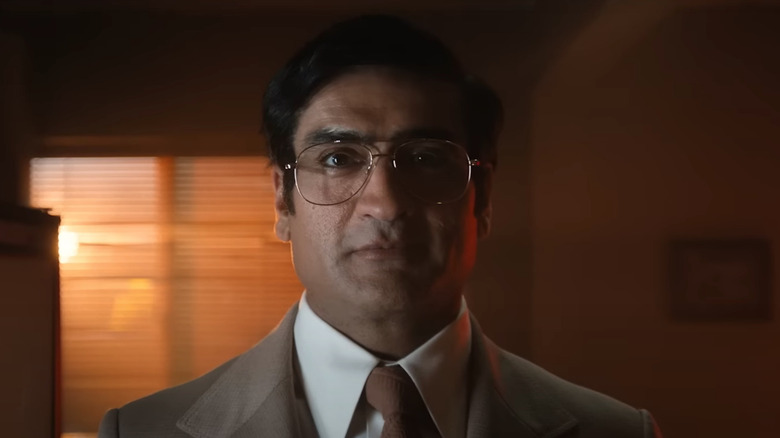 Anyone who's listened to the excellent podcast "Welcome to Your Fantasy" or read the book "Deadly Dance: The Chippendales Murders" knows that the story behind the legendary touring striptease troupe is a wild one. At the center of it all is the truly fascinating and downright scary character of Somen "Steve" Banerjee, the Chippendales impresario with a dark side. What starts out as a seemingly inspiring story of an Indian immigrant's ambition to live the American dream quickly shifts into nightmare territory, with Banerjee becoming increasingly reckless in his attempts to protect the business he built.
It was only a matter of time before the story was adapted for the screen, which has now transpired with the release of a biographical true crime limited series on Hulu. "Welcome to Chippendales" sees none other than comedian turned action hero turned dramatic actor Kumail Nanjiani take on the role of the sinister Chippendales founder. Nanjiani reinvented himself for the role, casting aside the ripped figure he'd attained for Marvel's "Eternals" and gaining considerable weight to inhabit the persona of Banerjee. But beyond his physical transformation, the actor also drew from his comedic inspirations.
From Comedy To Drama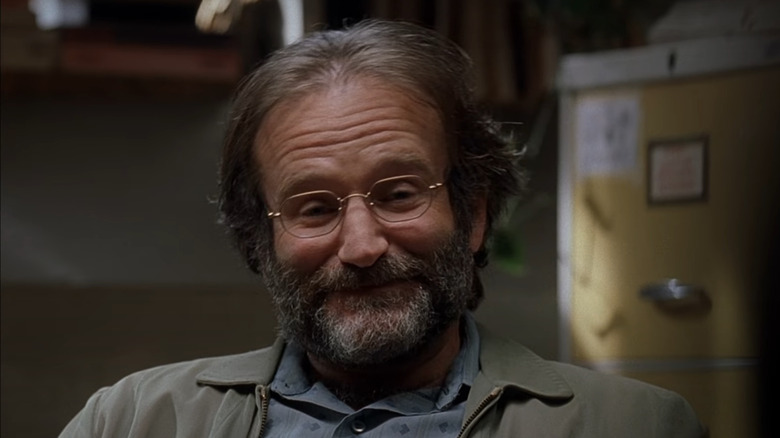 To prepare, Nanjiani watched a bunch of classic Hollywood movies to tap into Banerjee's "idolization of America and the West." But it seems one of his biggest influences in taking on the role was his personal hero, Robin Williams. The actor best known for portraying gentle-hearted, frenetic funnymen on screen also had a whole list of darker roles under his belt, including what he termed his "Triptych Of Evil."
Having made the jump to dramatic acting with "Good Will Hunting," the late actor and comedian had established himself as a truly gifted on-screen talent capable of portraying a range of characters. This allowed him to take on darker roles moving forward, kicking off his "triptych" with a truly unsettling turn as disturbed photo lab technician Seymour "Sy" Parrish in "One Hour Photo." Similarly grim roles would follow with Williams appearing in 2002's "Death to Smoochy" and Christopher Nolan's "Insomnia" that same year.
This ability to switch things up with impressive believability obviously had a profound impact on Nanjiani, who spoke to the ladies over at The View about how Williams had impacted his preparation for "Welcome to Chippendales:"
"When I look at the people that inspired me to do comedy in the first place, someone I think of a lot is Robin Williams … when I think of people who started off as standup and ended up doing dark dramatic roles it's very hard to beat the level that he achieved in all those different areas. And I was like 'if my heroes are doing this I have to at least try and follow in their footsteps.'"
'I Really Needed That'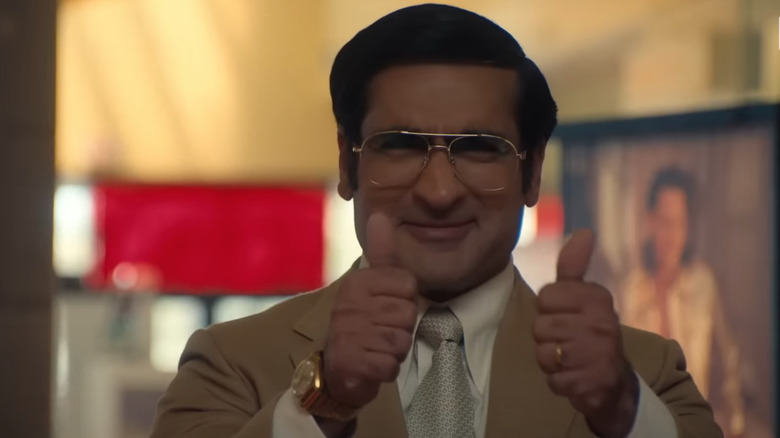 It's not surprising that Nanjiani, who grew up in Pakistan, was inspired by Robin Williams to accept a role that seemed so at odds with what he'd done before. Williams had a truly global reach, and even outside of his diverse acting work, embodied the all too fine line between comedy and tragedy. The performer is well-known for his struggles with mental health, right up to his untimely passing. But in many ways, his own experiences with life's hardships seemed to give his dramatic work that much more believability.
That seems to have rubbed off on Nanjiani, who, prior to his role in "Eternals," was struggling under the weight of Hollywood type-casting that saw the actor consistently handed "nerdy roles." With Williams as a big inspiration, Nanjiani had obviously always harbored a desire to branch out, which thankfully he's now finally able to do. 
But what the "Welcome To Chippendales" star seems to remember most fondly about his hero is the comedy. He recounted a story of when he met Williams at a small show in LA in the back of a comic book store. As Nanjiani tells it, he came backstage to find Williams standing there and asked if he wanted to go up on stage: "He said, 'oh, no I can't,' and I was like 'are you sure,' and before I'd finished he was like 'I'll just do two minutes.' He went on stage, did 20 minutes, it was amazing."
After his impromptu performance, Williams apparently came off-stage and said: "thank you, I really needed that." It's a neat story not just because Nanjiani got to meet his hero, but because in a small way he got to repay him for the inspiration which would eventually propel him to take on more diverse roles.
Read this next: Adam Sandler's 14 Best Roles Ranked
The post Kumail Nanjiani Was Inspired By Robin Williams to Take On His Darker Chippendales Role appeared first on /Film.